About Us
Amerta Chinese Restaurant in Monkstown prides itself on traditional Chinese dishes while still recognising the need to be modern, incorporating Cantonese, Thai and Singaporean dishes on their extensive menu. Amerta cleverly notices that Chinese cuisine doesn't always appeal to children and offers...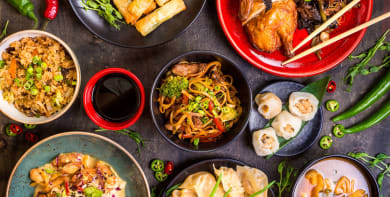 Reviews
"First time trying Amerta. Food was just fantastic, delivery time perfect and I will be a repeat customer. Thank you."
"Food arrived hot , well prepared and tasty 10/10"
"Food got here outrageously quick, Truman Show quick it was suspiciously quick and also very very tasty."
Find Us
Dublin
1 Clifton Avenue, Dublin, MONKSTOWN
Opening Hours
| | |
| --- | --- |
| Monday | 17:00 - 23:59 |
| Tuesday | 17:00 - 23:59 |
| Wednesday | 17:00 - 23:59 |
| Thursday | 17:00 - 23:59 |
| Friday | 17:00 - 00:30 |
| Saturday | 17:00 - 00:30 |
| Sunday | 17:00 - 23:59 |
Delivery times may vary
We deliver to:
Ballybrack, Ballybrack (Dublin), Blackrock, Blackrockcarysfort, Blackrockcentral, Blackrockmonkstown, Blackrocknewpark, Blackrockseapoint, Blackrockstradbrook, Blackrocktemplehill, Blackrockwilliamstown, Brennanstown Road, Cabinteely, Cabinteelygranitefield, Cabinteelypottery, Carrickmines, Cornelscourt, Dalkey, Dalkey Hill, Dalkey Upper, Dalkeyavondale, Dalkeybullock, Dalkeycoliemore, Deansgrange, Dun Laoghaire, Dun Laoghaire Sallynoggin, Dun Laoghaireeast Central, Dun Laoghaireglasthule, Dun Laoghaireglenageary, Dun Laoghairemonkstown Farm, Dun Laoghairemount Town, Dun Laoghairesalthill, Dun Laoghairesandycove, Dun Laoghairewest Central, Foxrock, Foxrockbeechpark, Foxrockcarrickmines, Foxrockdeansgrange, Foxrocktorquay, Galloping Green, Glasthule, Glenageary, Johnstown (Dublin), Kill Of The Grange, Killiney, Monkstown, Mount Merrion, Sallynoggin, Sandycove, Shankill, Shankillrathsallagh, Stillorgan, Stillorganleopardstown, Stillorganmerville, Stillorganmount Merrion, Stillorganpriory